If you've recently won big and aren't sure how to spend your new found money, a vacation to an exotic beach somewhere might just be right up your alley. Or if you're looking for some inspiration to help you play big to win big, look no further than these beautiful beaches to help you on your way. Here are the best beaches to spend your winnings and have the ultimate luxury getaway that is perfect for the winner in you.
Greece
Greece is known for its beautiful water, stunning coastal scenery, and all-around luxury experiences. If you're looking for the perfect place to celebrate your major winnings, a trip to Greece would be perfect. You can take in all the culture and food it has to offer. If you're feeling really plush, you could even charter your own private yacht around the Greek islands. Picture yourself splashing into that crystal blue water under the Grecian sky.
Maldives
Chances are if you have googled dream beach vacations, you have seen pictures of the Maldives. Beautiful five-star bungalows nestled over crystal blue water sounds like an amazing getaway worthy of a winner. Escape from everything as you relax in your stunning bungalow that comes with a butler and all the frills it has to offer. Your secluded vacation will be the perfect way to celebrate your big win.
Hawaii
When it comes to the best beaches in the world, Hawaii is definitely on the list. There are so many different islands and so many different terrains that you can take in the best of the beach as well as the mountain scenery. If you were looking for some variety on your luxurious beach getaway, Hawaii would be the perfect spot for the adventurer in you.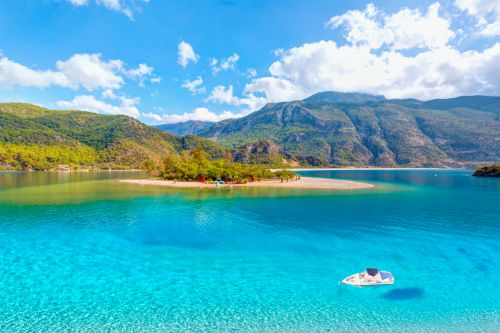 Turks and Caicos
These beaches are voted best in the world, and it is for a reason. If you love water sports, this is the perfect place to vacation for you. If you've ever wanted to ride a horse in the water, or swim with dolphins, Turks and Caicos is your dream vacation that is just waiting for you. You can also take in a variety of water activities while there from jet skiing to fly boarding. This would also be the perfect beach vacation to charter a private yacht catered with the best chefs the island has to offer.
Indonesia
With the bluest waters in the world, Indonesia is a wondrous place to visit. You can take in all the beautiful beaches have to offer, and the stunning mountain landscape nearby. Go on a search for hidden waterfalls and beautiful lagoons that will be your own private pool for an afternoon. If you're looking for an adventurous vacation filled with gorgeous beaches, Indonesia is the perfect place to celebrate your big winnings.
Going on a vacation is probably one of the most common ways people celebrate their big wins. These stunning beaches and exotic getaways are the perfect inspiration or celebration for your next big win.