Everyone wants their chance at winning the lottery – it's something we all dream of from a very young age. What happens when you actually win? You could spend it on cars, or houses, or a new wardrobe, but what if you went a completely different route and spent it on life experiences that are a once in a lifetime occurrence? Traveling the world eating the most expensive ice cream or taking extravagant trips to exotic locales top the list of the best ways to spend your lottery winnings like a Royal.
Scoopi Café, Dubai
Travel to a far-off place to get your sweet tooth craving fix. This ice cream parlor serves a flavor called Black Diamond, which is the most expensive ice cream in the world. Coming in at $817 USD per scoop, you can really indulge in this decadent dessert with ingredients of saffron, truffle, and edible 23 karat gold. Relive your ice cream dream again and again at home in your PJ's with your souvenir Versace bowl and spoon that is yours to keep forever.
Yacht it Up
Spend a week in Greece aboard the largest charter yacht in the world – The Alexander. It will only cost you around $800,000 per week for an unforgettable experience for you and 79 of your closest friends. With 40 cabins to gift and share, you will be everyone's best vacation buddy. Get to and from local islands via the helipad on the yacht and travel in style.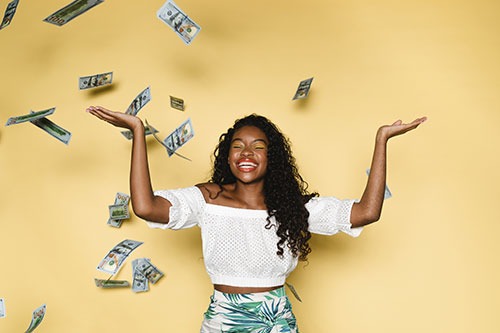 The Palms, Las Vegas
Looking for a place to spend your lottery winnings and possibly double your money? Head out to the desert to stay in the most expensive hotel room in the world at The Palms in Las Vegas. The Empathy Suite is the ultimate in luxury and comes with two master bedrooms, private full bar and its own art gallery. Invite your friends and bask in your winnings while sipping champagne and admiring the artwork of modern-day visionaries.
World's Most Expensive Doughnut
Step outside of your normal Dunkin' run and try something truly unique. Savor the most expensive doughnut in the world – The Golden Cristal Ube. That's right, Cristal, as in the champagne. Both the dough and icing are chock filled with Cristal, airbrushed with 24 karat gold and sprinkled with gold leaf. Don't even think about bringing these to your office at $1,200 a dozen.
Furry Friends
Sure, traveling the world is fun, but give yourself the gift of man's best friend splurging on the world's most expensive dogs and cats. The Samoyed dog bread will be the priciest pile of fur you can own coming in at around $14,000 a pup. Even more exclusive and expensive is The Ashera cat, which can cost up to $125,000. There are only 5 of these kittens born every year from one Los Angeles based breeder. These furry friends are the gift that keeps on giving year after year.
Take to spending your lottery winnings like royalty and give yourself experiences and memories you will cherish forever.